A super quick and easy vegan parmesan cheese! You only need 3 ingredients and 5 minutes to make it.
[日本語のレシピはここをクリック]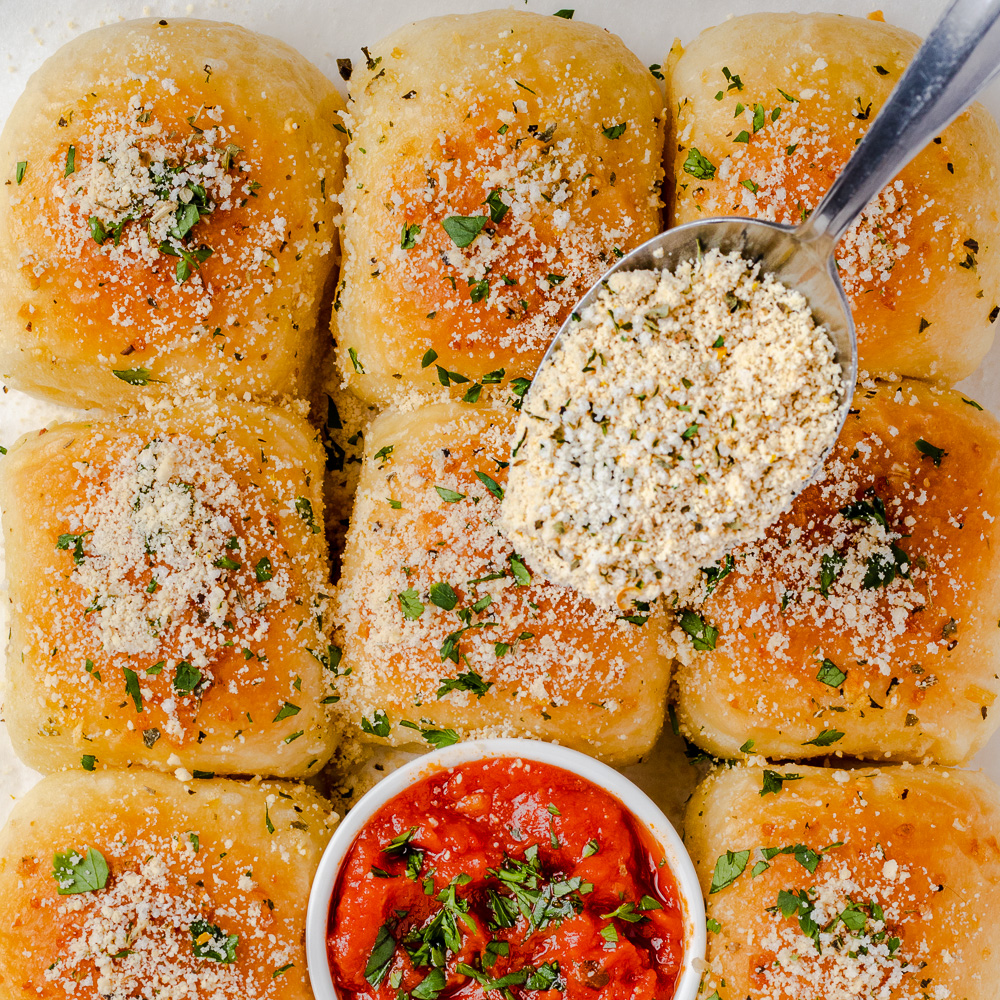 Vegan Parmesan Cheese
This recipe for vegan parmesan cheese is so flavorful and cheesy! It makes a great topping for pastas, salads, pizzas, roasted veggies… Basically, sprinkle it over any of your favorite dishes for an added cheesy flavor.
It's incredibly easy to make. All you need are a food processor and 3 basic pantry ingredients to make this delicious cheesy topping. It will take less than 5 minutes to make! Plus, homemade vegan parmesan is a lot cheaper and healthier, made with simple whole foods and no preservatives or additives.
Give this recipe a try! I think you will love it just as much as I do. Vegan parm is definitely a staple in my fridge. I usually make a big batch and store it in the fridge or freezer. It keeps well, for up to 3 weeks in the fridge or two months in the freezer.
Ingredients
The 3 ingredients you will need are:
Raw cashews
Nutritional yeast
Italian seasoning
Ingredient Notes
Nuts: cashews are my favorite, but you can use different types of nuts. Just make sure to use raw and unsalted nuts. Other type of nuts you could use are walnuts, almonds, and macadamias.
My favorite nutritional yeast for this recipe is Bob's Red Mill Nutritional Yeast.
If you don't have Italian seasoning, you can make your own by mixing the following dry herbs and spices.
Combine equal amounts of:
Rosemary
Oregano
Basil
Thyme
Garlic powder
How to make it
It's very simple. Just add all ingredients to a food processor and pulse.
Make sure not to over-blend, or you will get a paste instead. Just pulse until you get a fine meal.
Looking for ways to use Vegan Parmesan Cheese?
Here are some ideas:
Thank you for visiting my blog! If you made this recipe, or any other recipes of mine, be sure to tag me @veganesetokyo on Instagram and use the hashtag #veganesetokyo. I would love to see your creations❤️
Vegan Parmesan Cheese
A quick and easy vegan parmesan cheese!
Ingredients
1/2

cup

raw cashews

2 1/2

tbsp

nutritional yeast

1/2

tsp

Italian seasoning
Instructions
Add all the ingredients in a food processor or a high-power blender and pulse until well blended.

Use it to top your favorite pasta dishes, vegan pizza, salads or breads. Enjoy!
ヴィーガン・パルメザンチーズのレシピ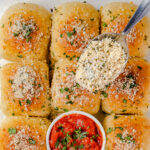 Print Recipe
ヴィーガンパルメザンチーズ
材料3つ、5分で出来る簡単ヴィーガンチーズのレシピです。
Ingredients
生カシューナッツ 1/2カップ

ニュートリショナルイースト 大さじ2.5

イタリアンソルト 小さじ1.5
Instructions
パスタや、サラダ、パン、ピザのトッピングにオススメです!