A simple recipe for vegan Lemon Garlic Pasta. It's a vibrant and refreshing pasta dish that takes minimal effort to make. You only need 7 basic ingredients, and 20 minutes to make this satisfying dish!
日本語のレシピはここをクリック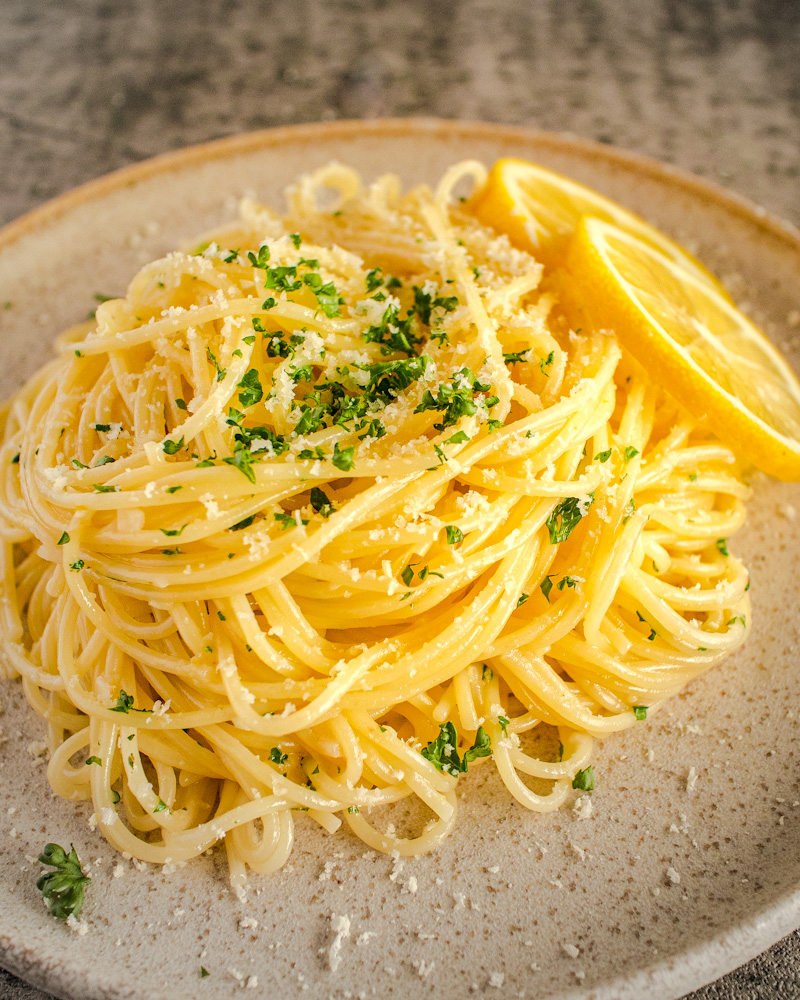 Lemon Garlic Pasta
I'm kind of obsessed with the lemon and garlic flavor combo, especially for pasta. Vegan Lemon Garlic Pasta is tangy, vibrant and refreshing. It's also creamy, but without being too heavy. So, this pasta dish is great as either a main dish, or a filling side dish. I love serving it with grilled veggies and hearty salads.
What ingredients you need
Here is a list of the ingredients you will need to make vegan Lemon Garlic Pasta.
You only need 7 basic ingredients:
pasta
extra virgin olive oil
garlic
nondairy cream
salt
vegan butter
lemon
Suggestion for Toppings:
Parsley
Chili Flakes
Vegan Parmesan Cheese
A detailed recipe with measurements is in the recipe card below.
Ingredient Notes
Pasta – you can use any type of pasta, but my personal favorite is the thin, light kind of pasta. For example, Capellini (Angel Hair) or Vermicelli are the thinnest pastas, and they pair really well with this sauce.
Non-dairy cream – any type of unsweetened, unflavored cream will work. You can also use barista blend oat milk (thick, creamy oat milk). In Japan, the most readily available non-dairy cream is Soy Cream (for whipping cream). You should be able to find it at any supermarket, in the dairy section.
Vegan Butter – either vegan butter or margarine will work.
Vegan Parmesan Cheese – you can use either store-bought vegan parm, or make your own. Check out my recipe for vegan parmesan cheese. You can make your own parmesan with only 3 simple ingredients!
How to make Vegan Garlic Lemon Pasta
A detailed recipe is in the recipe card at the bottom of this post, but let me give you a quick overview of the process. It's very simple, and will only take 20 minutes to make!
Prepare the pasta – cook the pasta according to package instructions. Reserve some pasta water for later use.
Make the sauce – heat oil in a pan, and cook the garlic for several minutes. Add the rest of the ingredients and stir well.
Combine – add the cooked pasta to the sauce pan, and toss to combine.
Garnish – top the pasta with parsley, chili pepper, and vegan parmesan cheese.
Looking for another vegan pasta option?
Thank you for visiting my blog! If you made this recipe, or any other recipes of mine, be sure to tag me @veganesetokyo on Instagram and use the hashtag #veganesetokyo. I would love to see your creations❤️
Lemon Garlic Pasta
Tangy, refreshing Lemon Garlic Pasta. This recipe only requires 7 basic ingredients, and 20 minutes to make!
Ingredients
200

grams

pasta

1/2

tbsp

olive oil

2

cloves

garlic

minced

1/3

cup

nondairy cream

I used soy cream

1/2

tsp

salt

2

tbsp

vegan butter

1/2

lemon

juiced and zested
Topping Suggestions
fresh parsley

chili flakes

ground pepper

vegan parmesan

see Notes below
Instructions
Cook the pasta according to package. Reserve 3 tbsp of the pasta water for later use.

Heat olive oil in a pan, and add minced garlic. Cook for 2 minutes.

Add nondairy cream, salt, vegan butter, lemon juice and lemon zest to the pan. Cook and stir to warm up.

Add the cooked pasta and pasta water. Cook and sir until heated through.

Serve with your choice of topping. My favorite is vegan parm and parsley. Enjoy!
ヴィーガン・レモンガーリックパスタ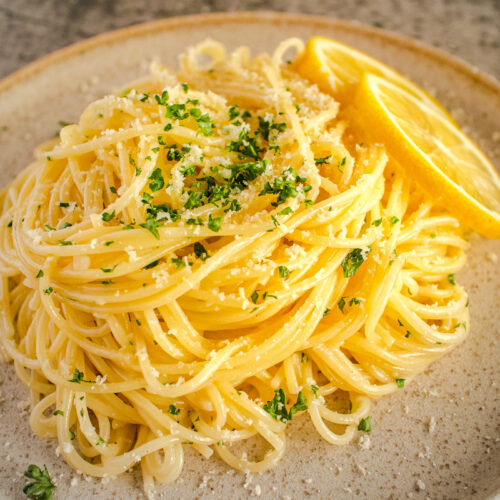 Print Recipe
レモンガーリックパスタ
レモン、ガーリック、豆乳クリームがベースのパスタレシピです。こう見えて、意外とあっさりしているので、メインディッシュだけでなくサイドディッシュにもオススメです。材料7つと20分で出来る簡単レシピ、是非お試しください!
Ingredients
パスタ 200g

オリーブオイル 大さじ1/2

ニンニク、みじん切り 2片

豆乳クリーム 1/3カップ

塩 小さじ1/2

ヴィーガンバター 大さじ2

レモン 1/2個

レモン汁とレモンゼスト
オススメのトッピング
パセリ

チリフレーク

ブラックペッパー

ヴェーガンパルメザンチーズ

下記の「Notes」にレシピがあります
Instructions
パスタを表記通りに茹でる。茹で汁大さじ3を取っておく。

フライパンにオリーブオイルを熱し、ニンニクを1〜2分炒める。香りが立ったら、豆乳クリーム、塩、ヴィーガンバター、レモン汁とレモンゼストを加える。

茹でたパスタとパスタの茹で汁を加えて、全体にからめたら出来上がりです。