This vegan bolognese is the perfect sauce to pair with your favorite pasta. With tempeh as the protein source, the sauce is very hearty, healthy and flavorful. All you need is 30 minutes to cook this delicious vegan pasta sauce.
[日本語のレシピはここをクリック]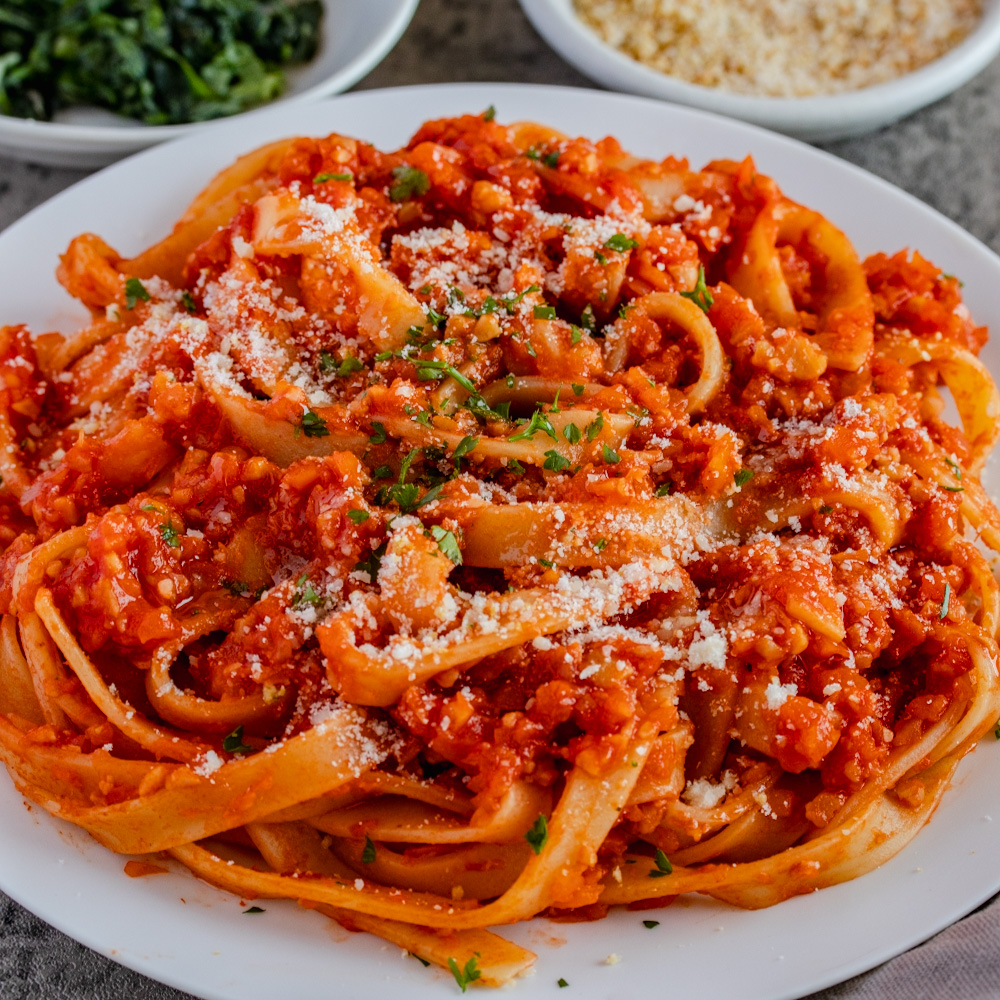 Tempeh Bolognese
Over the years, I've made my fair share of vegan bolognese sauce, with lentils, vegan mince, mushrooms, even quinoa! Out of all the meat substitutes, tempeh is my favorite! Crumbled tempeh makes the sauce so rich, thick and hearty.
If you've never tried tempeh in your bolognese, I highly recommend you give it a try. Make a big batch, and store leftovers in the freezer (it keeps well for over a month). You can use it as a pasta sauce, lasagna filling, even for Sloppy Joes. Oh, and don't forget vegan parmesan cheese, it makes a great topping for this sauce.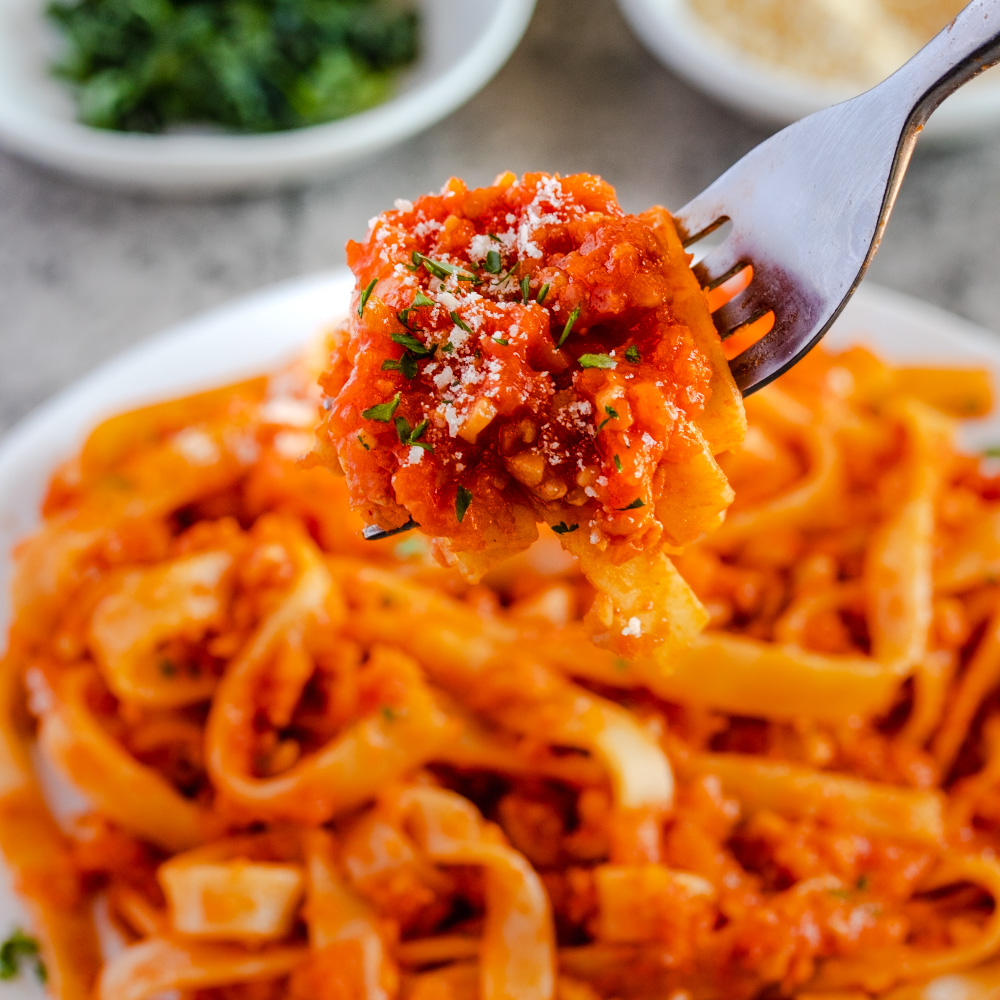 Tempeh
Tempeh is a fermented soybean food from Indonesia. It's a great plant-based protein source, with a meaty texture and nutty flavor. Because it easily absorbs any flavor or sauce, it is a very versatile ingredient to cook with. For this recipe, crumble tempeh with your hands or finely chop it with a knife.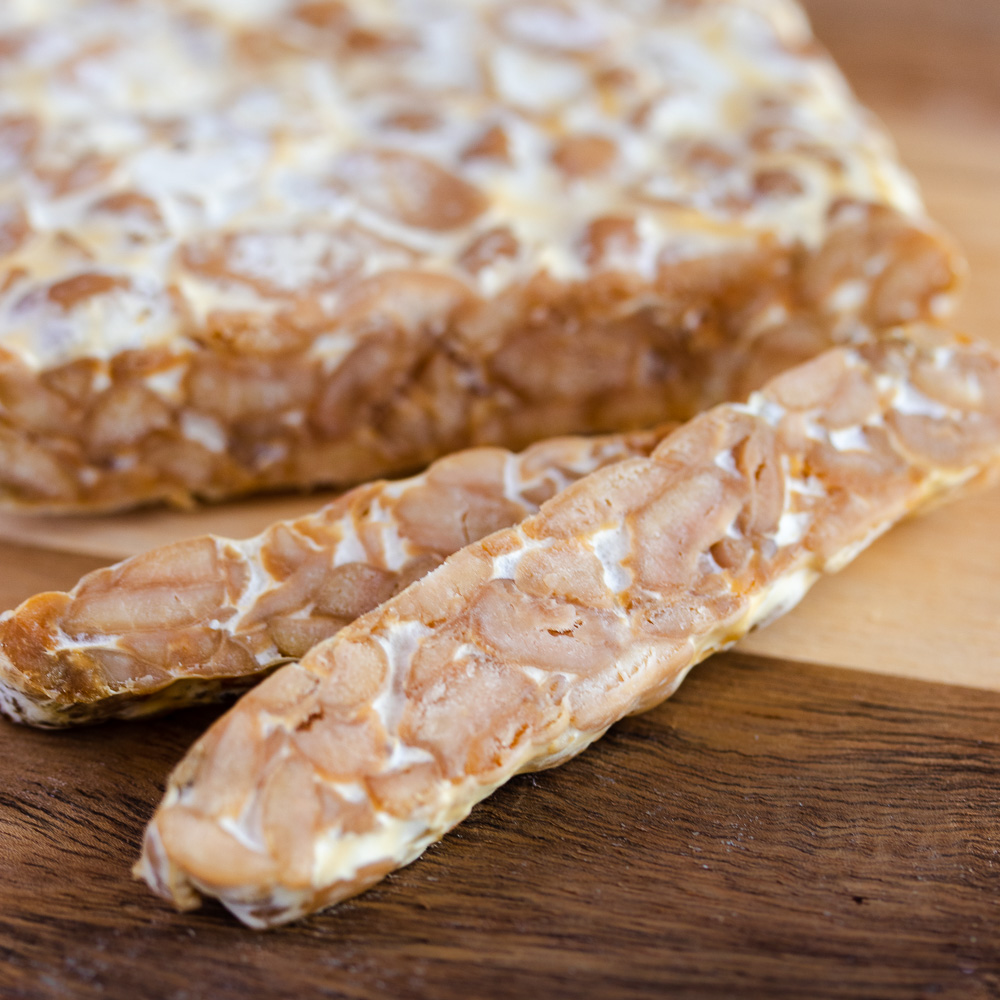 Ingredients
Other than tempeh, here's what you will need to make bolognese:
olive oil
onion
garlic
celery
carrot
tomato purée (tomato sauce)
tomato paste
soy sauce
vegan Worcestershire sauce
maple syrup
cumin
smoked paprika
salt
bay leaf
veg stock
cooking wine (optional)
A detailed recipe with measurements is in the recipe card below.
How to make Tempeh Bolognese
There are 3 simple steps to making this delicious sauce:
Sauté the veggies for several minutes.
Add the rest of the ingredients and simmer for 20 minutes.
Serve with your choice of pasta.
Not only is tempeh bolognese great with pasta, but its heartiness makes it a perfect filling for lasagnas and stuffed shells as well.
Store leftover bolognese in an airtight container for up to 5 days. In the freezer, it will keep well for up to 2 month.
Thank you for visiting my blog! If you made this recipe, or any other recipes of mine, be sure to tag me @veganesetokyo on Instagram and use the hashtag #veganesetokyo. I would love to see your creations❤️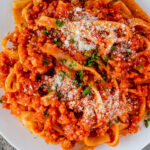 Print Recipe
Vegan Bolognese with Tempeh
This vegan bolognese is the perfect sauce to pair with your favorite pasta. It's made with tempeh, so it's healthy, hearty, and so flavorful. All you need is 30 minutes to cook this delicious vegan pasta sauce.
Ingredients
2

tbsp

olive oil

200

grams

tempeh

crumbled

1

onion

minced

3

cloves

garlic

minced

1

celery stalk

minced

1

small carrot

minced

1 1/2

cup

tomato purée (tomato sauce)

4

tbsp

tomato paste

1

tbsp

soy sauce

1

tbsp

vegan Worcestershire sauce

1/2

tbsp

maple syrup

1

tsp

cumin

1 1/2

tsp

smoked paprika

1

bay leaf

450

ml

veg stock

1/2

cup

cooking wine

salt to taste
Topping Suggestions
vegan parmesan cheese

fresh parsley

chili flakes
Instructions
Heat olive oil in a pan, and add onion, garlic, celery and carrot. Cook for 5 minutes, until soft.

Add crumbled tempeh, soy sauce, cumin and smoked paprika. Cook on medium-low heat for 5 minutes, stirring frequently.

Add tomato purée, tomato paste, veg stock, Worcestershire sauce and cooking wine. Simmer for 20 minutes, stirring occasionally. If the sauce thickens too much, add some water to loosen it. Add salt to taste.

Serve with your favorite pasta. Top it with vegan parmesan cheese and parsely. Enjoy!
ヴィーガン・ボロネーゼのレシピ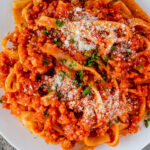 Print Recipe
ヴィーガンボロネーゼ
テンペで作ったヴィーガンボロネーゼのレシピです。とても食べ応えのある、濃い味わいのパスタソースです。鍋一つ、調理時間30分で出来る簡単レシピなので是非お試しください。
Ingredients
オリーブオイル 大さじ2

テンペ 200g

玉ねぎ、みじん切り 1個

ニンニク、みじん切り 3片

セロリの茎、みじん切り 1本

小さめの人参、みじん切り 1本

トマトピューレ 1.5カップ

トマトペースト 大さじ4

醤油 大さじ1

ウスターソース 大さじ1

メープルシロップ 大さじ1/2

クミン 小さじ1

スモークパプリカ 小さじ1.5

ローリエ 1枚

野菜だし 450ml

料理用白ワイン 1/2カップ

塩 適量
トッピングのオススメ
ヴィーガンパルメザンチーズ

フレッシュパセリ

チリフレーク
Instructions
テンペを細かくミンチにする。おろし金を使うと簡単にテンペを細かくできます。

鍋にオリーブオイルを熱し、玉ねぎ、ニンニク、セロリ、人参を中火で5分炒める。

テンペ、醤油、クミン、スモークパプリカを加えて、5分炒める。

トマトピューレ、トマトペースト、野菜だし、ウスターソース、白ワインを加える。弱火で20分煮込む。煮詰まり過ぎたら、少量の水を入れてソースを薄めて下さい。仕上げは塩で味を調整する。

トッピングにヴィーガンパルメザンチーズをかけ、お好みのパスタとお召し上がりください。ラザニアの具にもオススメです。