Oven-roasted Brussels sprouts are delicious! With a sweet and tangy maple dijon glaze, the crispy almost burnt edges are caramelized to perfection! This is my favorite way to enjoy these savory buds.
[日本語のレシピはここをクリック]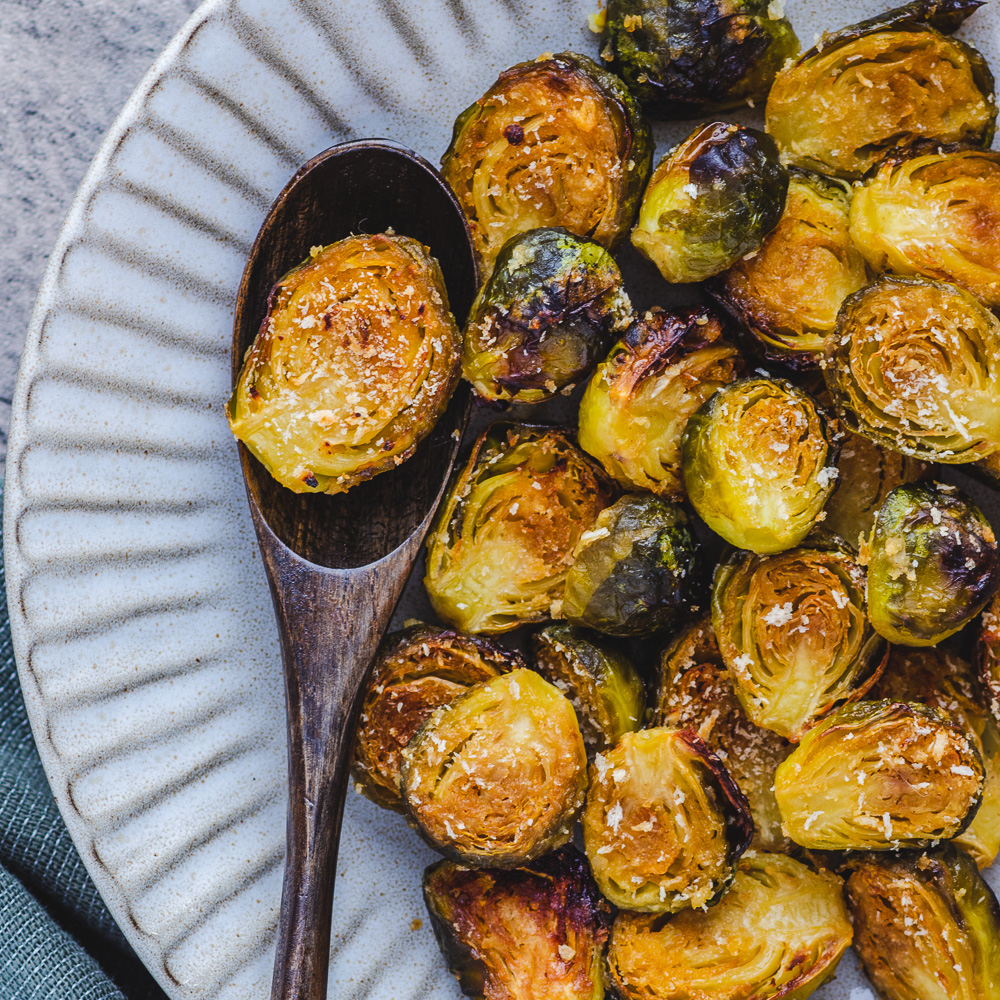 Brussels Sprouts
Brussels sprouts. They're not the most popular vegetable out there, are they? Somehow, they've gotten a bad reputation for being one of the most disliked veg, especially among children … BUT, this recipe for roasted Brussels sprouts just might convert a hater into a lover! It's really all about knowing how to cook them. With a maple dijon glaze, the caramelized sprouts are crispy on the outside, tender and sweet on the inside. The glaze compliments the sprouts' nutty and earthy flavor perfectly.
Ingredients
Here's what you will need to make oven-roasted Brussels sprouts:
Brussels sprouts
panko breadcrumbs
maple syrup
olive oil
Dijon mustard
onion powder
salt
A detailed recipe with measurements is in the recipe card below.
Ingredient Notes
Choose Brussels sprout that are large, firm and bright green. The larger ones are easier to roast evenly!
For this recipe, I use Panko breadcrumbs. They are lighter and flakier than regular breadcrumbs. If you don't have panko breadcrumbs, you can use regular breadcrumbs or make your own.
To make panko:
Remove the crust from a piece of white bread.
Pulse the bread in a food processor to make coarse crumbs.
Bake in the oven at 300 F/ 150 C degrees for about 5 minutes, until the crumbs are dry, but not toasted. You don't want the crumbs to brown.
How to make Roasted Brussels Sprouts
There are 3 simple steps to making these delicious roasted sprouts:
Prep – trim the ends off and remove any wilted or discolored outer leaves. Slice vertically to halve the sprouts.
Toss – add the Brussels sprouts and the ingredients for the glaze to a bowl, and toss to coat evenly.
Bake – spread the sprouts onto a baking sheet, sprinkle panko breadcrumbs and bake in the oven.
Thank you for visiting my blog! If you made this recipe, or any other recipes of mine, be sure to tag me @veganesetokyo on Instagram and use the hashtag #veganesetokyo. I would love to see your creations❤️
Oven-roasted Brussels Sprouts
Oven-roasted Brussels sprouts with a sweet and tangy maple dijon glaze. The sprouts are crispy on the outside, and sweet and tender on the inside. And the maple glaze perfectly compliments the sprouts' nutty, earthy flavor.
Ingredients
300

grams

Brussels sprouts

trimmed and halved

1/2

tbsp

panko breadcrumbs
Maple Dijon Glaze
1/2

tbsp

maple syrup

1/2

tbsp

olive oil

1/3

tbsp

Dijon mustard

1/2

tsp

onion powder

1/4

tsp

salt
Instructions
Preheat the oven to 210℃/410℉.

Add the ingredients for the glaze in a bowl and mix well.

Add the Brussels sprouts to the bowl, and toss until the sprouts are evenly coated.

Spread the sprouts onto a baking sheet, making sure not to overcrowd. Sprinkle panko over the sprouts.

Bake in the oven for 25 minutes, or until the edges are deep golden brown.
芽キャベツのカリカリロースト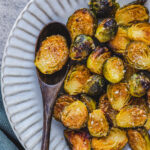 Print Recipe
芽キャベツのカリカリロースト
芽キャベツにメープルシロップとマスタードのタレをかけてローストするだけの簡単レシピです。甘じょっぱく、カリカリにローストされた芽キャベツ、とても美味しいので是非試してみて下さい!
Ingredients
メープルマスタードのタレ
メープルシロップ 大さじ1/2

オリーブオイル 大さじ1/2

ディジョンマスタード 大さじ1/3

オニオンパウダー 小さじ1/2

塩 小さじ1/4
Instructions
芽キャベツを縦半分に切る。タレのボウルに入れて軽くタレとあえる。

オーブンで25分焼く。こんがり焼き色が付いたら出来上がりです!