Pineapple Turmeric Smoothie Bowl is the perfect choice for a refreshing and healthy breakfast. This vibrant bowl is packed with tropical flavors, thanks to the combination of juicy pineapple and creamy banana, with a bit of zing from ginger. Plus, the addition of turmeric adds a boost of anti-inflammatory benefits. Give it a try and start your day off right!
[日本語のレシピはここをクリック]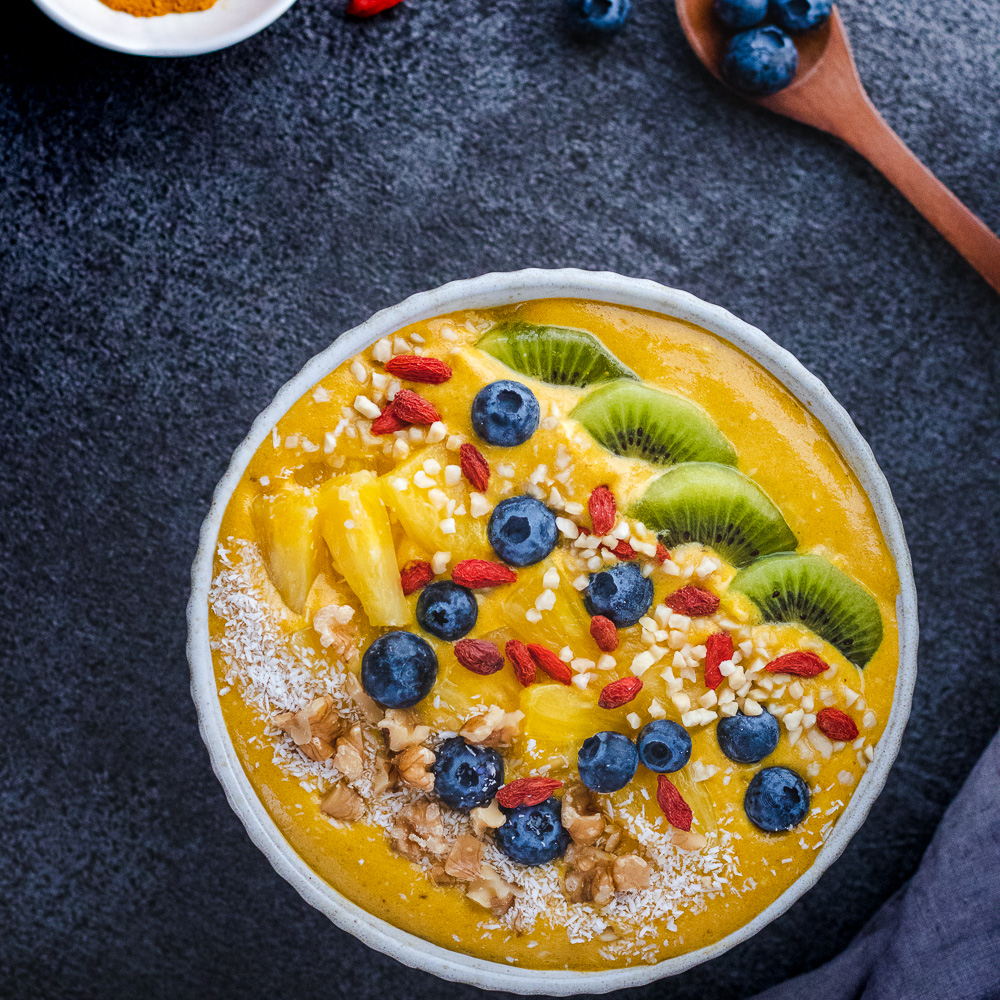 The BEST smoothie to jump start your day
It has pineapples, bananas, ginger and turmeric! These immune-boosting ingredients make this Pineapple Turmeric Smoothie delicious and healthy.
I'm kind of obsessed with turmeric. I love its earthy flavor, vibrant color, and all the health benefits it has for our brain and body. I try to take it daily, and one of my favorite ways is to make a smoothie bowl. If you prefer a drink, simply adjust the amount of liquid you add.
Benefits of Tumeric
Turmeric contains a compound called curcumin, which has a long list of potential health benefits to our brain and body. Namely, it is high in antioxidants and has potent anti-inflammatory properties. In fact, turmeric has been used for medicinal purposes in various countries for thousands of years!
This golden smoothie bowl is a delicious way to incorporate the superfood turmeric into your diet.
A detailed recipe is in the recipe card at the bottom of this post.
Thank you for visiting my blog! If you made this recipe, or any other recipes of mine, be sure to tag me @veganesetokyo on Instagram and use the hashtag #veganesetokyo. I would love to see your creations❤️
Pineapple Turmeric Smoothie
This golden tropical Pineapple Turmeric Smoothie is the perfect way to jump start your day.
Ingredients
1

frozen banana

sliced

1

cup

frozen pineapples

1/2

cup

coconut milk

or any nondairy milk

1

tsp

ground turmeric

1/4

tsp

ground ginger
Topping Ideas
kiwis, pineapple chunks or blueberries

walnuts, almonds, coconut flakes or goji berries
Instructions
Mix all the ingredients in a food processor or blender. Blend until smooth.

Transfer to a bowl, and top it with your favorite fruits and nuts. Enjoy!
ターメリック・スムージーボウル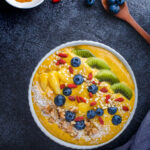 Print Recipe
ターメリックのスムージーボウル
スーパーフードのターメリックとパイナップルやバナナをミックスした健康的で美味しいスムージーのレシピです。
Ingredients
冷凍バナナ 1本

冷凍パイナップル 1カップ

ココナッツミルク 1/2カップ

他の植物性ミルクに変更可

ターメリックパウダー 小さじ1

ジンジャーパウダー 小さじ1/4
オススメのトッピング
キウイ、パインやブルーベリー

くるみ、アーモンド、ココナッツフレークやクコの実
Instructions
材料を全てブレンダーかフードプロセッサーに入れて攪拌する。

ボウルに移し、お好みのフルーツやナッツでトッピングしてお召し上がりください。