Yogurt granola parfait, it's one of the prettiest, easiest, and healthiest breakfast (or snack) foods! All you need are some delicious homemade granola, fresh fruits and nondairy yogurt to make these yummy parfaits.
[日本語のレシピはここをクリック]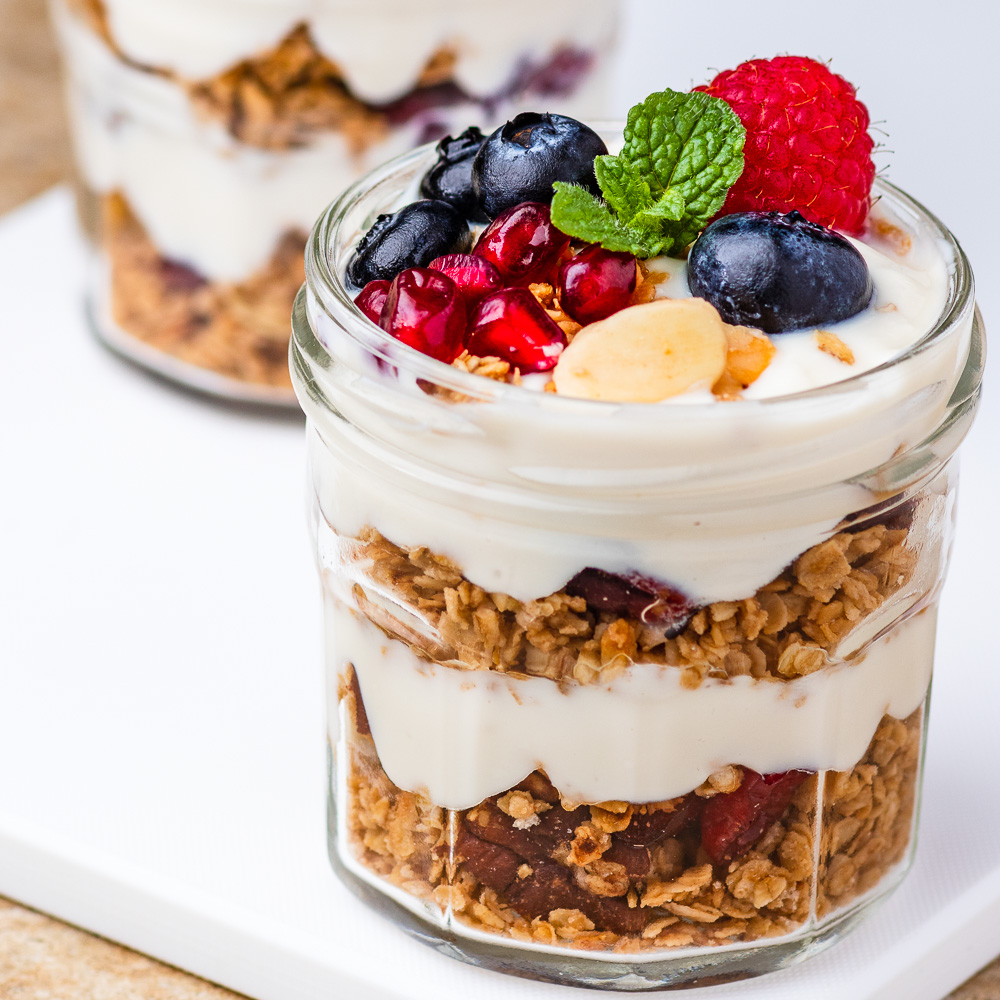 Granola Parfait
Making granola parfait doesn't get any easier than this. In less than 5 minutes, you can make this deliciously healthy parfait. Simply layer granola, your choice of nondairy yogurt, and some fresh fruits.
For my parfait, I layered these ingredients:
almond milk yogurt
homemade granola
raspberries, blueberries and pomegranates
Homemade granola
Of course, you can make this parfait with any kind of granola, even store-bought ones. BUT, homemade granola is so much healthier and tastier, not to mention cheaper to make! If you love granola, I highly recommend making your own. Make it ahead of time, and then you can enjoy granola parfaits anytime, any day! Granola stored in an airtight container will keep well for up to 1 month.
Ingredients for Homemade Granola
In order to make the base of the granola, there are only 4 ingredients you need:
old-fashioned oats
oil – such as coconut oil or extra virgin olive oil
sweetener – my favorite is maple syrup
salt
To the base, you can add you choice of nuts, seeds, dried fruits and spices.
How to make granola
Granola is extremely easy to make. There are only 2 simple steps:
Mix – add all the ingredients to a large bowl, and mix to combine well.
Bake – spread the mixture out onto a baking sheet and bake in the oven.
Here are some recipes for inspiration:
Thank you for visiting my blog! If you made this recipe, or any other recipes of mine, be sure to tag me @veganesetokyo on Instagram and use the hashtag #veganesetokyo. I would love to see your creations❤️
Granola Parfait
In less than 5 minutes, you can make this deliciously healthy parfait. Simply layer granola, nondairy yogurt of your choice, and some fresh fruits.
Ingredients
1/3

cup

nondairy yogurt

1/3

cup

granola

1/3

cup

fresh fruits, such as blueberries, raspberries, or pomegranates

1/4

cup

walnuts

chopped

maple syrup for drizzle
Instructions
In a small mason jar, layer granola, yogurt and fruits. Repeat the layers to fill the jar.

Top it with chopped walnuts, and drizzle maple syrup. Enjoy!
グラノーラ・パフェのレシピ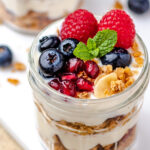 Print Recipe
グラノーラ・パフェ
グラノーラと豆乳ヨーグルト、フルーツなどを重ねるだけの出来る簡単パフェ。朝食やオヤツにオススメです。
Ingredients
グラノーラ 1/3カップ

豆乳ヨーグルト 1/3カップ

お好みのフルーツ 1/3カップ

クルミ 1/4カップ

メープルシロップ 少量
Instructions
ガラスのジャーにグラノーラ、ヨーグルト、フルーツを交互に重ねる。

トッピングにクルミとメープルシロップを少量たらして出来上がり!
Notes
市販のグラノーラの多くはヴィーガンではないので、手作りグラノーラがオススメです。簡単でヘルシー、かつ買うより安く作れますよ!