Vegan Snack Boards are one of the easiest, most fun things to prepare! Let me show you how I make my vegan boards with 4 simple elements.
[日本語はここをクリック]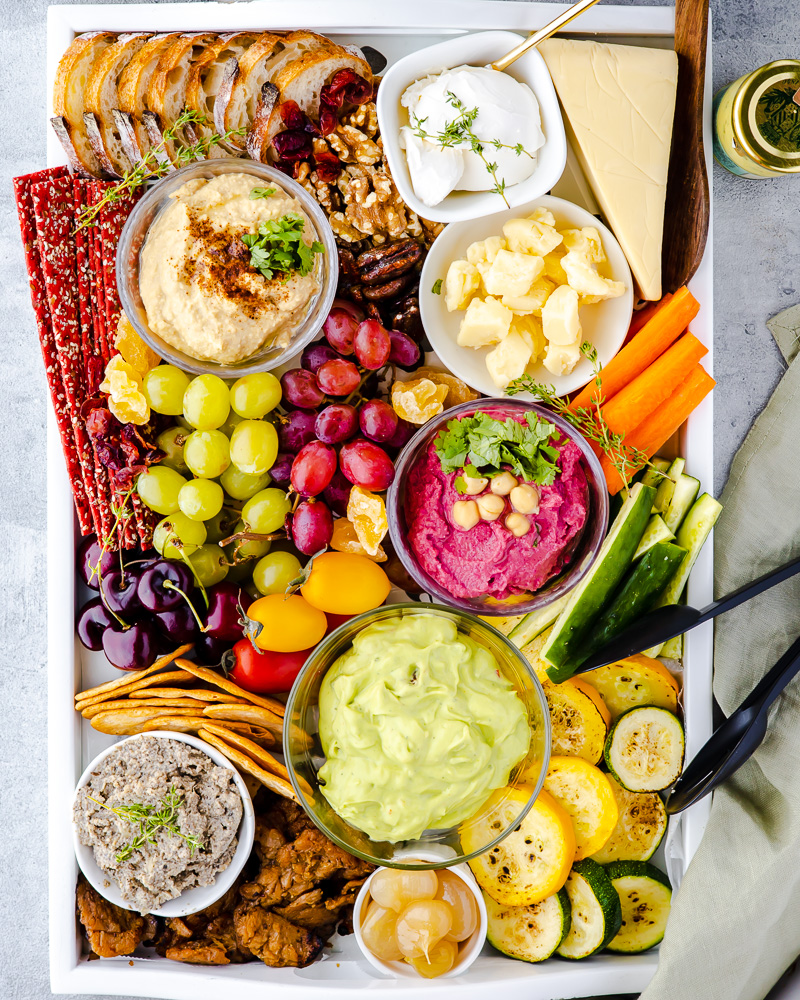 Vegan Snack Boards
These vegan snack boards are not just for parties, they're actually perfect for a lazy weekend or a night in! Who wouldn't love to veg out on the couch with a platter full of tasty bite-size nibbles? You can enjoy such a wide variety of tastes, textures and colors, all in one sitting!
So, next time you're feeling uninspired to cook an actual meal, prepare yourself a colorful snack board full of your favorite treats.
How To Prepare A Vegan Snack Board
First, you will need something the serve the snacks on. A large platter, cutting board or even a tray will work.
Next, the foods to serve on the board. To give it much variation, I try to include at least 4 different types of foods.
Cheeses
Some of my favorite vegan cheeses (available in Japan) are:
You can also make your own vegan ricotta cheese , the recipe takes less than 10 minutes.
Breads and Crackers
You can't have cheese without bread and crackers! I like small, sturdy crackers and breads that are suited for dipping, like thinly sliced baguettes, pitas, and sourdough.
Dips and Pâté
I'd say, the dips are the most important. They're the main heroes of the snack board, so I usually have two or three different kinds. Hummus, guacamole, and vegan pâté are great, and all very easy to make.
Try these recipes if you want to make your own dips and pates: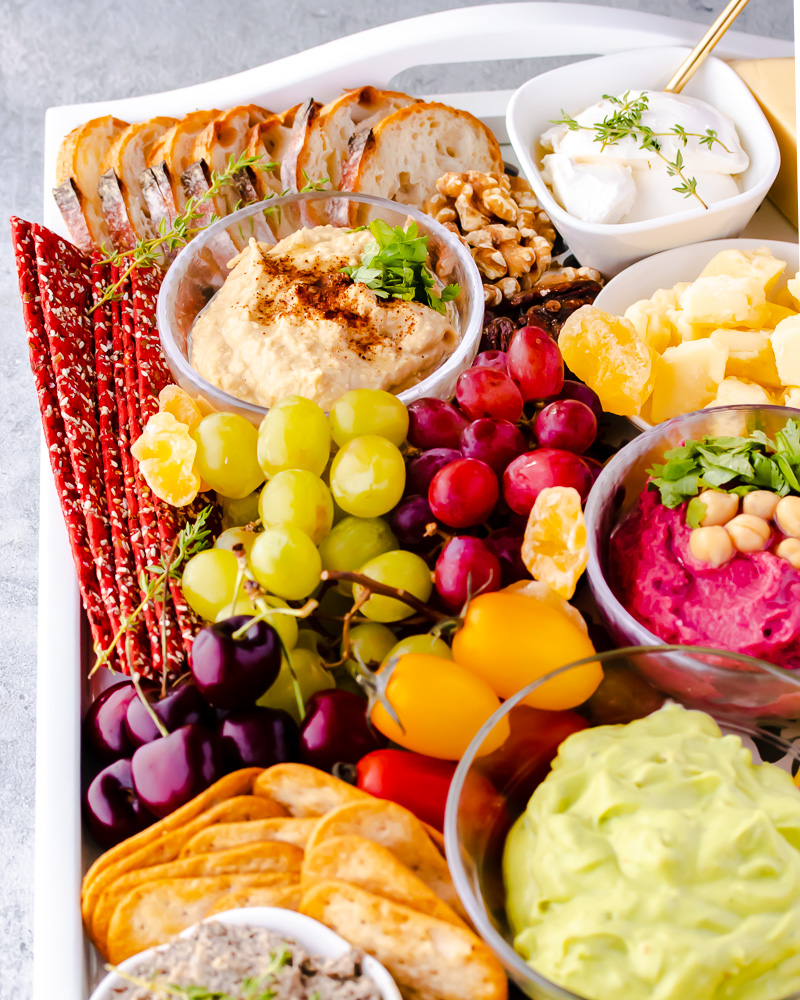 Fruits and Veggies
Any type of fruits (raw or dried) and veggies go great on snack boards They truly add color and vibrance to the board, so the more the merrier!
Some of my favorites fruits to add are:
grapes
cherries
blueberries
sliced apples
For veggies, I love:
cucumber sticks
carrot sticks
grilled zucchini slices
cherry tomatoes
olives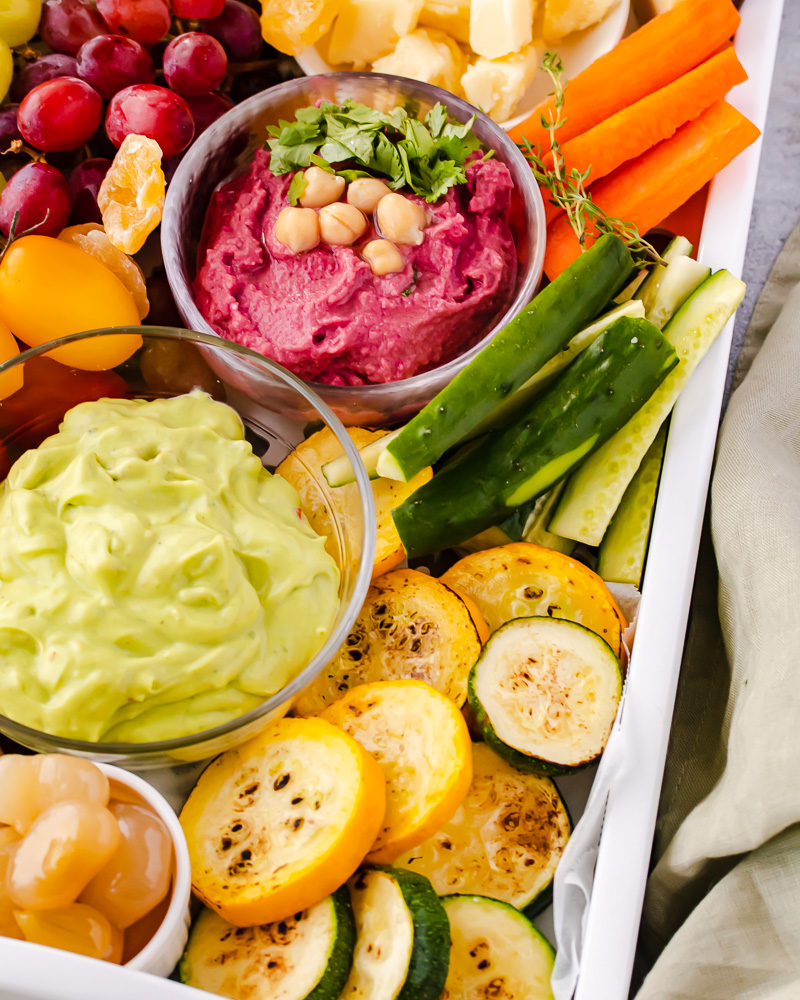 Additional Extras
Other types of foods that add variety to snack boards are nuts, seeds, peas, and vegan meats. Nuts and seeds are especially good for filling up small gaps between other foods on the board.
Some of these extras I love are:
walnuts
pecans
almonds
pine nut seeds
roasted chickpeas
edamame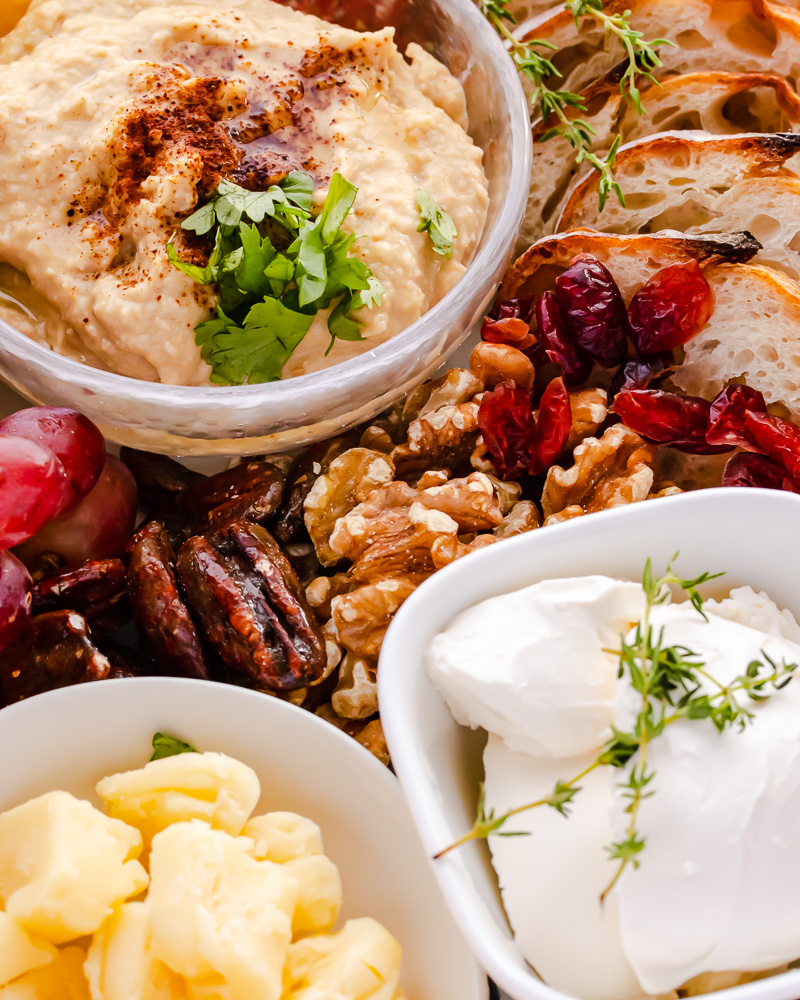 ヴィーガン・スナックボード
好きな食べ物を色々ボードに乗せるだけなのに、華やかでちょっとおしゃれに見えるスナックボード!簡単なアレンジ方法を紹介します。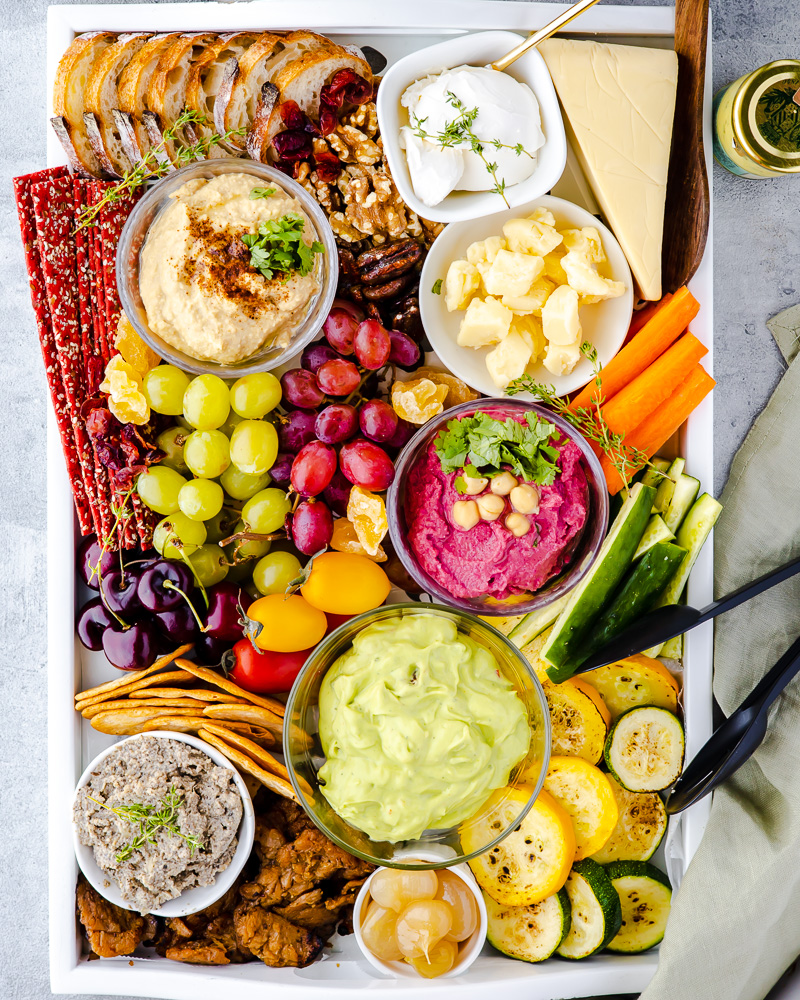 必要なモノ
食べ物を乗せる台は、大きめなお皿、カッティングボード、もしくはお盆でOKです。あと、小鉢や小さめのカップがいくつかあると便利です。
乗せる食べ物
スナックボードはカラフルで、色々な味や食感が味わえた方が楽しいので、出来るだけ乗せる食べ物のバリエーションは豊富に!うちでは、以下の中から4つ以上をアレンジしています。
ヴィーガンチーズ
よく使うチーズはマメマージュのクリームチーズやBeyond Tofuのブロックチーズです。
手作りでも簡単にヴィーガンチーズは作れます。10分で出来るリコッタチーズのレシピをご覧ください。
パンやクラッカー
薄くスライスしたフランスパンやピタパン、チーズ用のクラッカーを何種類か乗せています。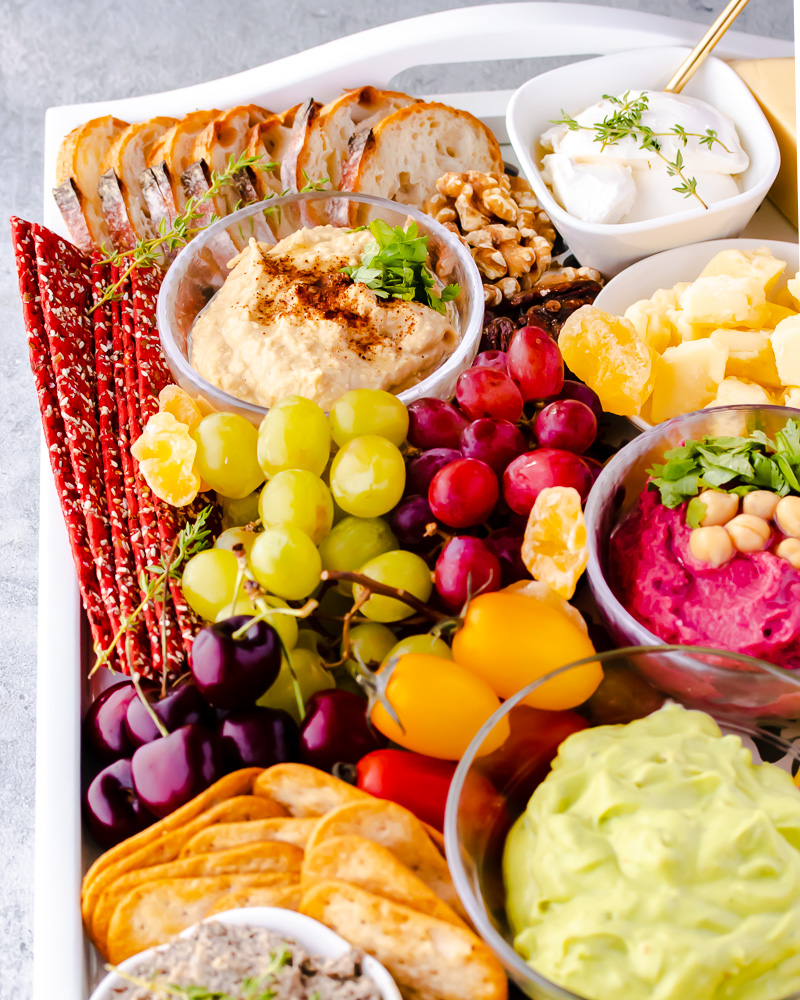 ディップやパテ
スナックボードの主役は美味しいディップやパテ!フムスやアボカドディップをよく乗せます。あと、最近レシピを投稿した、キノコのパテもオススメです。
フルーツや野菜スティック
華やかなスナックボードに欠かせないのがカラフルなフルーツと野菜。今回のボードに乗せたのはブドウ、アメリカンチェリー、ドライフルーツ、ニンジン、キュウリ、クリルしたズッキーニなどです。
ナッツや種類
色々な食感を楽しむのには、ナッツや種類がおすすめです!くるみ、ピーカンナッツ、カシューナッツやクコの実など。小さいナッツや種はボードの空いた隙間を埋めるのにも便利です。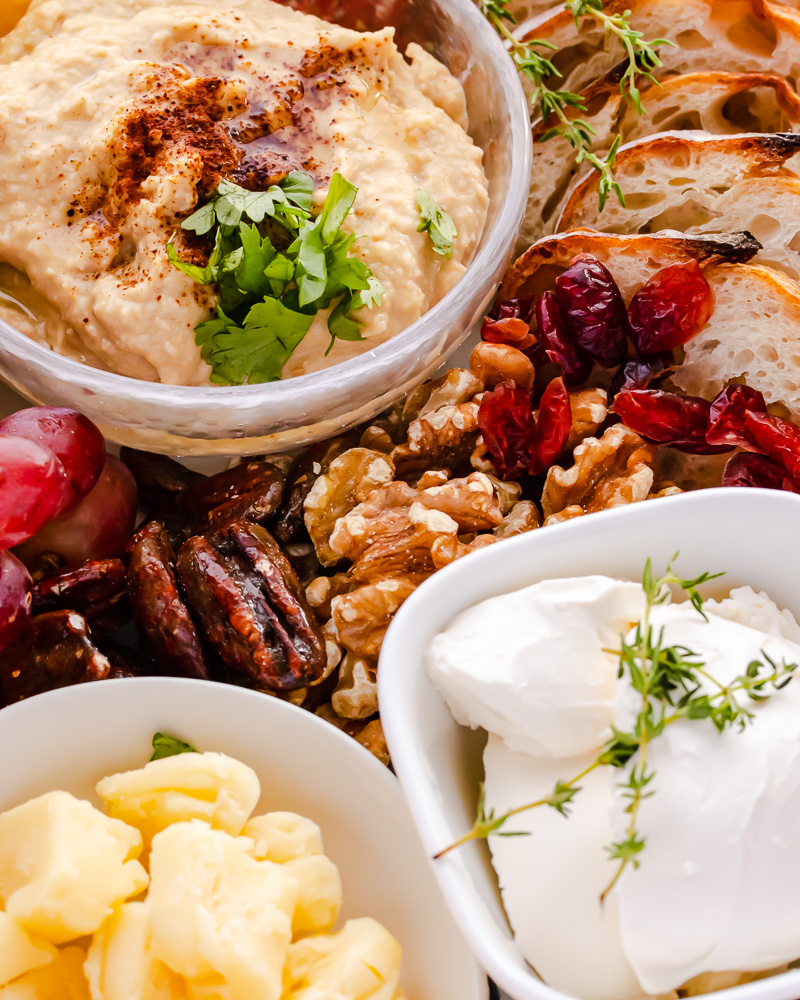 とっても美味しくて、楽しいスナックボードを是非、皆さんも作ってみてください!