This vegan peanut sauce is one of my favorites! It's a Thai inspired sweet and spicy sauce that is incredibly versatile. I use it for dipping spring rolls and veggies, saucing buddha bowls and noodles, it even makes a great spread. Best of all, it's incredibly easy to make!
日本語のレシピはここをクリック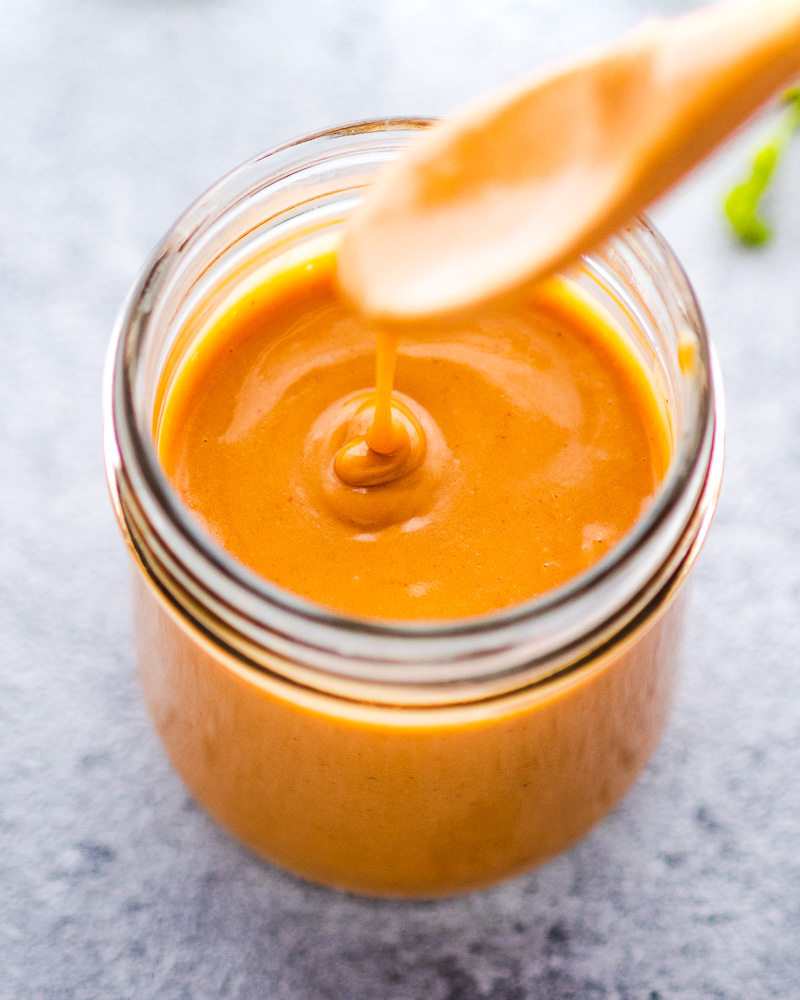 Vegan Peanut Sauce
One of my favorite things about this vegan peanut sauce is that it perfectly combines so many flavors. It's spicy, savory, tangy and a little bit sweet. All these amazing tastes come together to create a sauce that you can use for so many of your favorite dishes.
What ingredients you need
Here is a list of the ingredients you will need to make this vegan peanut sauce.
peanut butter
soy sauce
maple syrup
Gochujang
rice vinegar
sesame oil
ginger
garlic
chili fakes
water
A detailed recipe with measurements is in the recipe card below.
Ingredient Notes
Peanut Butter – I prefer to use creamy (unsweetened) peanut butter, but you can also use the chunky kind if you want more texture in the sauce.
Soy sauce – use low-sodium soy sauce, or tamari for a gluten-free option.
Gochujang – for the spiciness, I use Gochujang (コチュジャン), a red chili paste popular in Korean cooking. You can substitute it with another chili sauce, like Sriracha or Sambal sauce. Or, simply leave it out if you don't want the sauce to be spicy.
Rice vinegar – rice vinegar (米酢) has a milder, slightly sweeter taste than regular vinegar. If you don't have rice vinegar, subsititute it with white wine vinegar or apple cider vinegar.
How to make Peanut Sauce
The entire process is extremely simple.
Add all the ingredients to a food processor, and blend until you get a creamy, smooth sauce. If you don't have a food processor or blender, you can whisk all the ingredients in a bowl. Just make sure to whisk well to combine all the ingredients.
Adjust the amount of water to add, depending on the consistency you desire. To use the sauce as a dip or a spread, a thick and creamy consistency works best. For noodle sauces or salad dressings, you want the sauce to be a bit thinner and runnier.
How to Serve and Store
You can serve this sauce with pretty much any kind of dish.
spring rolls
veggie sticks
noodles
buddha bowls
salads
crispy tofu
My personal favorite dishes using this delicious this peanut sauce are Vegan Pad Thai and Vegan Satay.
Vegan Pad Thai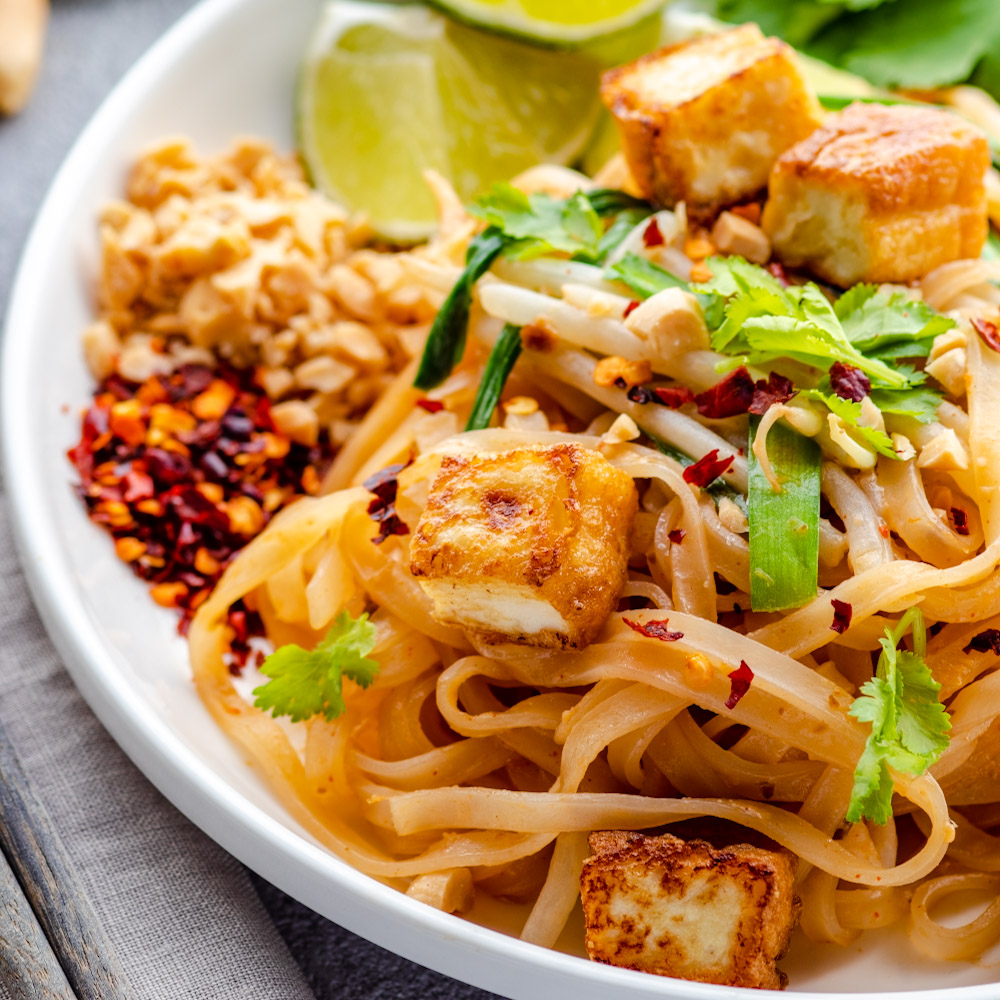 Vegan Satay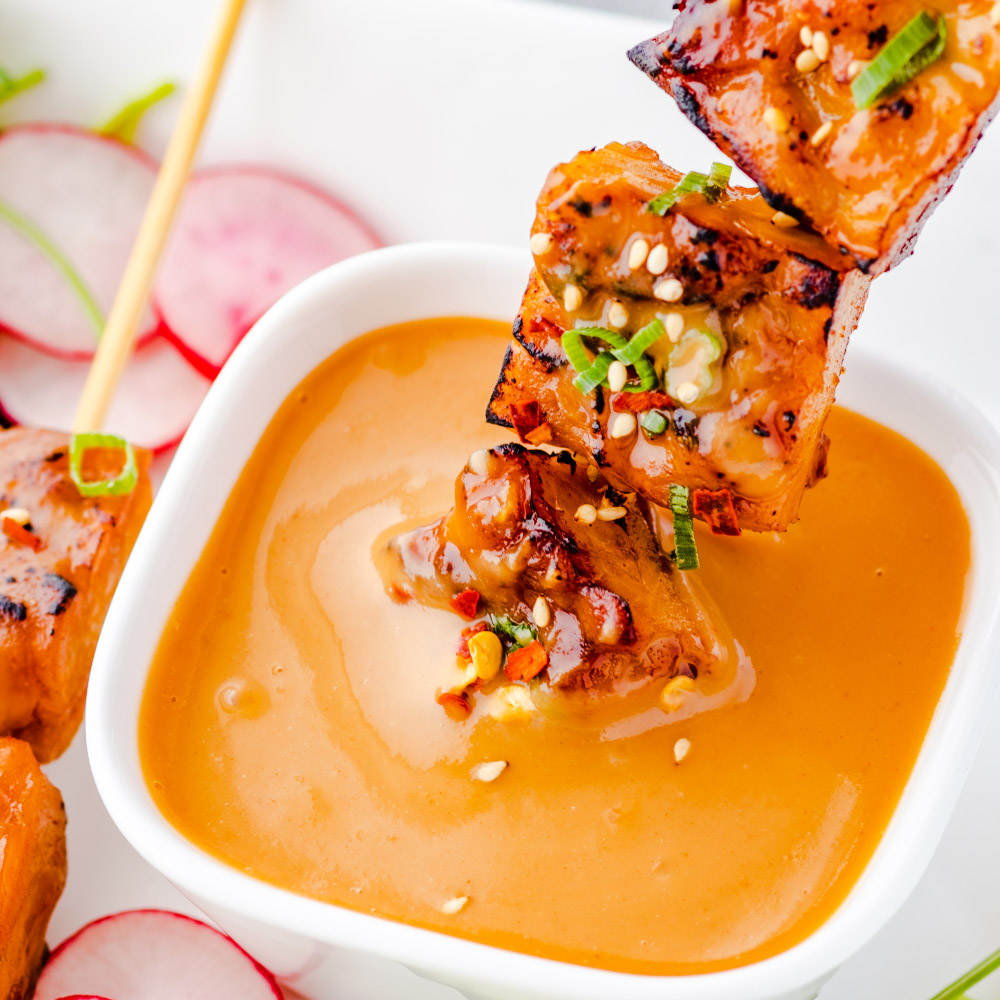 Store the sauce in the refrigerator for up to 2 weeks in an airtight container.
Thank you for visiting my blog! If you made this recipe, or any other recipes of mine, be sure to tag me @veganesetokyo on Instagram and use the hashtag #veganesetokyo. I would love to see your creations❤️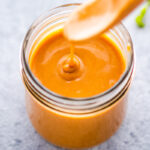 Print Recipe
Spicy Peanut Sauce
This is my favorite sauce ever! This yummy Spicy Peanut Sauce is so versatile, you can use it as a dipping sauce, spread, salad dressing, or for noodle dishes.
Ingredients
1/2

cup

peanut butter

creamy

2

tbsp

soy sauce

1

tbsp

maple syrup

2

tbsp

Gochujang

or another chili paste

4

tbsp

rice vinegar

~1/2

cup

water

adjust for desired consistency

1

tbsp

sesame oil

1/2

tsp

ginger

grated

1

tsp

garlic

grated

chili fakes

to taste
Instructions
Add all the ingredients in a food processor and blend until smooth and creamy.

Adjust the amount of water for desired consistency. Enjoy!
スパイシーピーナッツソース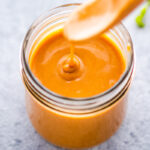 Print Recipe
スパイシーピーナッツソース
スパイシーで甘酸っぱいピーナッツソースのレシピです。生春巻きや、野菜ディップ、サラダのドレッシングなど、使い方は色々ある万能ソースです!材料をフードプロセッサーで混ぜるだけの5分で出来る簡単レシピです。
Ingredients
ピーナッツバター、クリーミー 1/2カップ

醤油 大さじ2

メープルシロップ 大さじ1

コチュジャン 大さじ2

米酢 大さじ4

水 〜1/2カップ

お好みで調整

こま油 大さじ1

生姜、すりおろし 小さじ1/2

ニンニク、すり下ろし 小さじ1

チリフレーク

お好みで
Instructions
材料を全てフードプロセッサーで攪拌する。水の量を調整してお好みの濃度にしてください。