Deliciously fudgy and moist vegan brownies. They're so much better than any pre-made brownie mixes!
[日本語のレシピはここをクリック]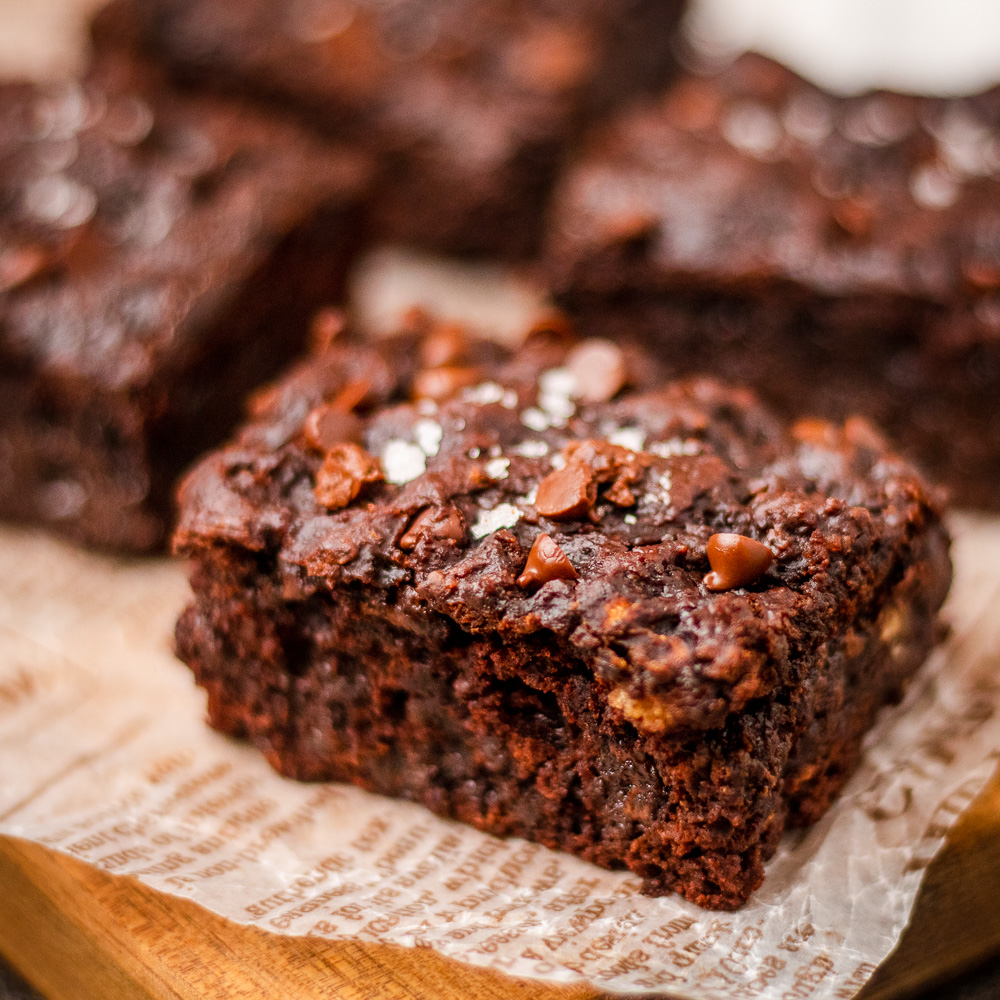 Vegan Brownies
Even without any dairy or eggs, these vegan brownies turn out very rich and gooey. Whether you're a vegan or not, these brownies will for sure satisfy your chocolate cravings.
Ingredients
You will need the following ingredients to make these brownies:
all-purpose flour
coconut sugar
cocoa powder
apple sauce
vegan eggs
chocolate chips
baking powder
almond extract
coconut oil
salt
A detailed recipe with measurements is in the recipe card below.
Ingredient Notes
Coconut Sugar can be subbed with any granulated sugar in a 1:1: ratio.
Use unsweetened Cocoa Powder and Apple Sauce.
For Vegan Eggs, I use Bob's Red Mill Egg Replacer. You could also use flax eggs. To make 2 flax eggs, mix 2 tbsp flax meal and 6 tbsp water, let it sit for 10 minutes to thicken. If it doesn't thicken enough, leave it in the fridge for an additional 10 minutes.
Any semi-sweet or dark Chocolate Chips will work. My personal favorite is non-dairy choco chips from Enjoy Life.
Coconut Oil or canola oil work best for this recipe. If you need to use a different type of oil, make sure it is neutral in flavor. Oils with distinct flavors, like olive oil, should not be used.
Thank you for visiting my blog! If you made this recipe, or any other recipes of mine, be sure to tag me @veganesetokyo on Instagram and use the hashtag #veganesetokyo. I would love to see your creations❤️
Vegan Brownies
Deliciously fudgy and moist vegan brownies.
Ingredients
120

grams

all-purpose flour

75

grams

coconut sugar

30

grams

cocoa powder

unsweetened

110

grams

apple sauce

unsweetened

2

vegan eggs

Bob's Red Mill Egg Replacer, or flax eggs

100

grams

vegan choco chips

semi-sweet

1/2

tsp

baking powder

1/3

tsp

almond extract

1/2

tbsp

coconut oil

melted

pinch of salt
Instructions
Preheat the oven to 350℉/180℃. Line a square baking tin with parchment paper.

In a large mixing bowl, mix all the ingredients EXCEPT for choco chips. Once the batter is well-combined, add the choco chips and gently fold to mix.

Pour the batter into the baking tin, and bake for 20~25 minutes. Insert a toothpick or skewer in the middle, and if it comes out clean, it's done!

Let it cool completely before cutting. I love serving my brownies with a scoop of vegan vanilla ice cream. Enjoy!
ヴィーガン・ブラウニーのレシピ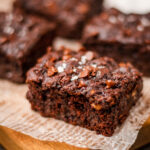 Print Recipe
ヴィーガンブラウニー
卵、乳製品不使用なのに濃厚でしっとり焼き上がるヴィーガンブラウニーのレシピです。材料を混ぜて焼くだけの簡単レシピです!
Ingredients
中力粉 120g

無ければ薄力粉60g + 強力粉60g

ココナッツシューガー 75g

ココアパウダー、無糖 30g

アップルソース、無糖 110g

ヴィーガン卵 2個

Bob's Red MillのEgg Replacer又はフラックス卵(詳細は下記のNotesにあります)

ヴィーガンチョコチップ、セミスイート 100g

ベーキングパウダー 小さじ1/2

アーモンドエッセンス 小さじ1/3

ココナッツオイル 大さじ1/2

塩 ひとつまみ
Instructions
【下準備】オーブンを180℃に予熱する。焼き型にクッキングシートを敷く。ココナッツオイルが固まっている場合、500Wのレンジで30秒加熱し、溶かす。

チョコチップ以外の材料を全てボウルに入れてよく混ぜ合わせる。最後にチョコチップを加えて、軽く混ぜる。

生地を焼き型に流し、オーブンで22〜25分焼く。竹串をさしてみて、生地が付かなければ出来上がり。

完全に冷ましてから、切って下さい。トッピングにはヴィーガンのバニラアイスはホイップクリームがオススメです!
Notes
フラックスエッグ 2個
水 大さじ3 + フラックスシード(亜麻仁)粉末 大さじ2
フラックスシードと水をよく混ぜ合わせる。とろみが出るまで10分置く。(とろみが出ない場合は、冷蔵庫でさらに10分置く)